WEBINAR: Hear Members of Crafts Executive Team Discuss the Shift to the "New Normal"
Masterclass No. 35 Brought to you by Enclave, will bring on Crafts Technology President & CEO Jeffrey Taylor and Vice President of Engineering Jeffrey Roberts to reveal and examine how they had to shift gears in their minds, and their organization to respond to "the new normal".
Wednesday June 17th, 2020 6:00pm – 7:30pm.
Zoom Meeting: https://us02web.zoom.us/j/83226611772?pwd=LzZNcHgySldVNGIrZFBFc3FhVDY1Zz09#success
Meeting ID: 832 2661 1772 Password: 339121
For Telephone Connection without Video: 312.626.6799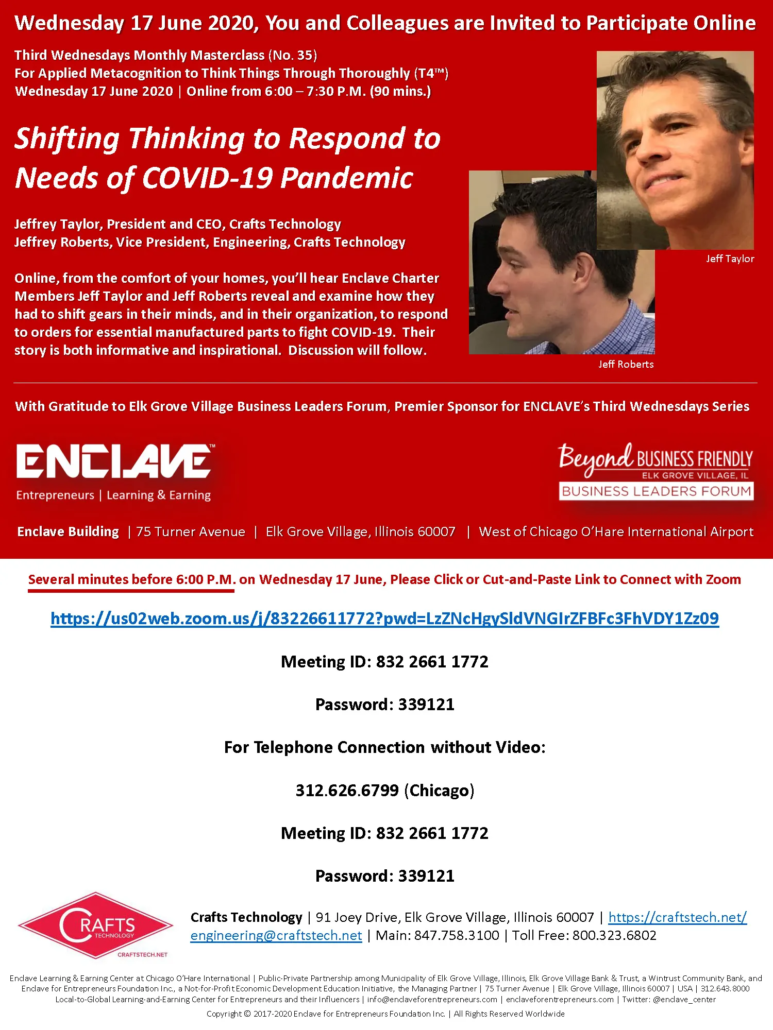 Email us for more information on our COVID-19 Response Plan
General disclaimer information
This site contains information, data, documents, pages and images prepared by Crafts Technology. While the Information contained in this site and in the Response Plan has been presented with all due care, Crafts Technology does not warrant or represent that the Information is free from errors or omission.
The Information is made available on the understanding that Crafts Technology and its employees and agents shall have no liability (including liability by reason of negligence) to the users for any loss, damage, cost or expense incurred or arising by reason of any person using or relying on the information and whether caused by reason of any error, negligent act, omission or misrepresentation in the Information or otherwise. The information is being supplied so that users of the information can develop their own Response Plan that is reviewed and modified accordingly by the user.
Accuracy of information
While the Information is considered to be true and correct at the date of publication, changes in circumstances after the time of publication may impact on the accuracy of the Information. The Information may change without notice and Crafts Technology is not in any way liable for the accuracy of any information printed and stored or in any way interpreted and used by a user.
Links to third-party sites
Crafts Technology takes no responsibility for the accuracy, currency, reliability and correctness of any information included in the Information provided by third parties nor for the accuracy, currency, reliability and correctness of links or references to information sources (including Internet Sites).
Links to other Internet Sites are for information only. Care has been taken in providing these links as suitable reference resources. However, due to the changing nature of the Internet content, it is the responsibility of the users to make their own investigations, decisions, enquiries about the information retrieved from other Internet Sites. Providing these links does not imply any endorsement, non-endorsement, support or commercial gain by Crafts Technology.
---
Crafts Technology, Inc. manufactures machinery and components. The Company offers rings, core pins, fluid dispensing components, tungsten carbide, advanced ceramics, and precision knives. Crafts Technology conducts its business in the State of Illinois.
https://craftstech.net/wp-content/uploads/2020/05/Crafts-Technology-employee-wearing-PPE-during-COVID-19-pandemic.webp
1418
1872
Jeffrey Roberts
https://craftstech.net/wp-content/uploads/2022/03/CraftsLogo.webp
Jeffrey Roberts
2020-06-15 16:34:45
2022-03-08 14:28:51
WEBINAR: Hear Members of Crafts Executive Team Discuss the Shift to the "New Normal"