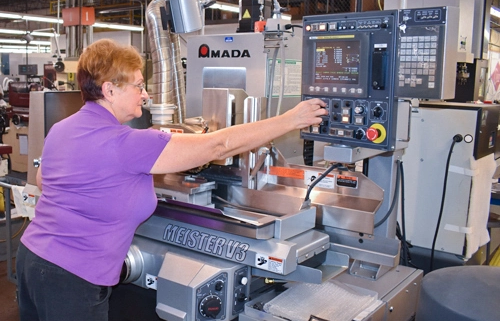 Women in Manufacturing Hosts a Virtual Tour of Crafts Technology
Please join us for a free Virtual Tour of Crafts Technology on Thursday February 25th at 8:30am CT. This special event is being hosted by WiM IL (Women in Manufacturing) along with SME Chicagoland and IMEC.
Women in Manufacturing® (WiM) is the only national trade association dedicated to providing year-round support to women who have chosen a career in the manufacturing industry. At present, more than 5,800 individual members representing nearly 1,000 manufacturing companies have joined our growing ranks of industry professionals. WiM encompasses manufacturers of all types and welcomes individuals from every job function – from production to the C-Suite. Membership is available to women and men working within the manufacturing sector.
Some highlights of this Virtual Tour of Crafts Technology will include the following:
Micro Manufacturing – Producing features below .001″
Skills Matrix – Visual Representation of Cross Training and Addressing the Skills Gap
KPI Management – See how KPI's throughout the operation help promote efficiency and company success.
CNC Precision Grinding – see the evolution of manual to CNC while holding tolerances below .0001″
Ownership – See how Equity for all translates to success for the company.
Crafts Technology is a leader in manufacturing precision parts from superhard materials that deliver optimum life and corrosion resistance for the most demanding applications. Our expertise includes micro-manufacturing, composite fabrication, and new product development that benefits the entire value stream. Products range from tungsten carbide core pins for injection molding to nozzles and needles, cutting tools, modular composite countersink drilling, AFP blades, and wear parts. Crafts harnesses a 4 pillar approach to provide significant value to the industrial marketplace including:
Culture of Ownership
Materials Engineering
State of the Art Manufacturing
Engineering Innovation
* Registration is free and open until 2/24/21 at 4:00 PM (EST)
https://craftstech.net/wp-content/uploads/2022/03/Surface-Grinder-Capex.webp
475
500
Jeffrey Roberts
https://craftstech.net/wp-content/uploads/2022/03/CraftsLogo.webp
Jeffrey Roberts
2021-02-08 15:08:06
2022-03-08 13:35:12
Women in Manufacturing Hosts a Virtual Tour of Crafts Technology