Sharing Crafts COVID-19 Operational Response Plan
Sharing Crafts COVID-19 Operational Response Plan:
In order to remain operational during the pandemic, Crafts Technology was compelled to develop and evolve a comprehensive best-in-class response plan that has been a very important tool to help us operate and keep our people safe.
Because this plan benefited us, to such a high degree, we want to share the plan for the good of everyone. As such, we are making the plan available immediately, at the link below. We only ask that you send us an email directly if you would like an editable [Word] version of the plan.
Or email engineering@craftstech.net
We were able to put together this document with great help and support from our network:
We hope this document helps you in some way as we get through this pandemic.
As we navigate through this pandemic the only constant will be change. We know our document will continue evolve and be modified with new rules, regulations, and best practices. We hope that sharing this document openly will allow others to comment and provide input on what we (and others) can do to continue to make our place of work safer for our employees and our community.
Please feel free to email us (at engineering@craftstech.net) with any questions or input. We are all in this together and through teamwork and collaboration we will get through this together.
Stay safe and healthy.
Crafts COVID-19 experience
As an Essential Business providing necessary materials for a number of industries, including medical device suppliers who produce COVID-19 test kits, Crafts Technology hasn't shut down during the pandemic. This puts us in a unique position because we've stayed ahead of the curve in developing policies and procedures to maintain the safety of our team, while continuing our manufacturing operations. Through this experience, we've learned a lot fast. Without excellent resources and assistance from a number of people this journey would have been more difficult and taken longer to maneuver, now it's our turn to help.
The culmination of our efforts resulted in the Crafts Technology COVID-19 Exposure Prevention, Preparedness, and Response Plan (Email us for an editable response plan that we're openly sharing). The plan describes how to prevent worker exposure to coronavirus, protective measures to be taken in production and office areas, personal protective equipment and work practice controls, cleaning and disinfecting procedures, and what to do if a worker becomes sick.
How to create a COVID-19 response plan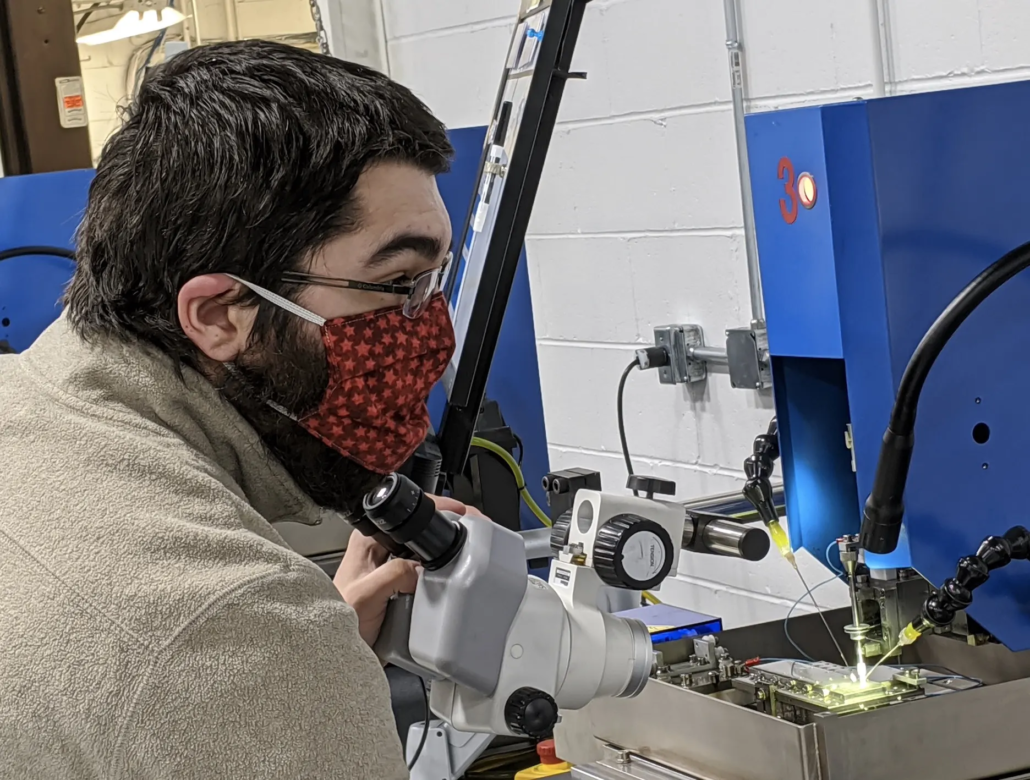 Our plan and government policies highlight the fact that businesses need to take action to protect employees and the community, during and beyond the COVID-19 pandemic.
If you're questioning how to respond to everything from welcoming workers back to the office to what steps you'll need to take if someone at your facility tests positive, here's a few things we've learned and some resources
Create a multi-disciplinary team
We involved people from different groups and different levels of management to encompass a whole business perspective. The team includes our president & CEO, vice president of engineering, controller and human resource manager, operations manager, and shop supervisor.
Research what information is available from local and national trade organizations along with government agencies

The Illinois Manufactures' Association [IMA] was also a substantial resource to continue to evolve our control plan to meet any the ever changing requirements. The IMA website helps us keep up-to-date on the evolving situation by providing daily information describing how to maintain a safe environment, along with updates on legal requirements we need to know.

Don't recreate every facet of your plan
There's a tremendous amount of resources available, the CDC and OSHA offer ongoing mitigation guidance for businesses and workplaces including prevention support, and cleaning and disinfecting options.
Develop a plan as unique as your business
No template will include everything essential to your business. Our team developed a plan by systematically evaluating our points of contact along with embracing the assistance of outside experts.
Make it a live document open to revisions
Although many areas are starting to bend the curve, the long-term implications of COVID-19 are unknown. Not to mention, changes to COVID-19 rules and regulation are expected. As research and data continues to evolve, you'll need to update your plan to reflect the best practices.
Share the plan
Schedule meetings with the entire company (preferably by phone or video conference) to bring everyone in the organization up to date. When we conduct in person meetings attendance is collected verbally, we limit gatherings to groups of 10 or less, and participants must remain at least six feet apart.
Why a response plan makes a difference
As the economy starts to open, we'll embrace our new norm, and workers will return to offices and factories.
By developing a response plan you're protecting your most important asset, your people. When returning to work there's bound to be uncertainty. Being prepared and providing a comprehensive plan that includes valuable resources will reduce stress by ensuring your team access to critical health and safety information.
Email us for more information on our COVID-19 Response Plan
General disclaimer information
This site contains information, data, documents, pages and images prepared by Crafts Technology. While the Information contained in this site and in the Response Plan has been presented with all due care, Crafts Technology does not warrant or represent that the Information is free from errors or omission.
The Information is made available on the understanding that Crafts Technology and its employees and agents shall have no liability (including liability by reason of negligence) to the users for any loss, damage, cost or expense incurred or arising by reason of any person using or relying on the information and whether caused by reason of any error, negligent act, omission or misrepresentation in the Information or otherwise. The information is being supplied so that users of the information can develop their own Response Plan that is reviewed and modified accordingly by the user.
Accuracy of information
While the Information is considered to be true and correct at the date of publication, changes in circumstances after the time of publication may impact on the accuracy of the Information. The Information may change without notice and Crafts Technology is not in any way liable for the accuracy of any information printed and stored or in any way interpreted and used by a user.
Links to third-party sites
The Information contained in this site includes information derived from various third parties that are neither endorsed nor supported by Crafts Technology and does not necessarily reflect any policies, procedures, standards or guidelines of the organizations that comprise Crafts Technology.
Crafts Technology takes no responsibility for the accuracy, currency, reliability and correctness of any information included in the Information provided by third parties nor for the accuracy, currency, reliability and correctness of links or references to information sources (including Internet Sites).
Links to other Internet Sites are for information only. Care has been taken in providing these links as suitable reference resources. However, due to the changing nature of the Internet content, it is the responsibility of the users to make their own investigations, decisions, enquiries about the information retrieved from other Internet Sites. Providing these links does not imply any endorsement, non-endorsement, support or commercial gain by Crafts Technology.
---
Crafts Technology, Inc. manufactures machinery and components. The Company offers rings, core pins, fluid dispensing components, tungsten carbide, advanced ceramics, and precision knives. Crafts Technology conducts its business in the State of Illinois.
https://craftstech.net/wp-content/uploads/2020/05/covid-plan.webp
315
820
Jeffrey Roberts
https://craftstech.net/wp-content/uploads/2022/03/CraftsLogo.webp
Jeffrey Roberts
2020-05-11 21:06:44
2022-03-08 14:29:58
Sharing Crafts COVID-19 Operational Response Plan