The use of tungsten carbide core pins has transformed plastic injection molding for medical consumables.  By fostering strong synergies between manufacturing, engineering, and materials science capabilities, Crafts Technology has created solutions that significantly enhance the overall performance and productivity of the molding process by reducing defects and decreasing cycle time.  While the initial cost of tungsten carbide core pins is more expensive than other traditional materials, the return on investment is justified by quality, productivity, and wear life improvements.    Crafts has developed this detailed whitepaper on how you can improve your part quality and cycle time using this product.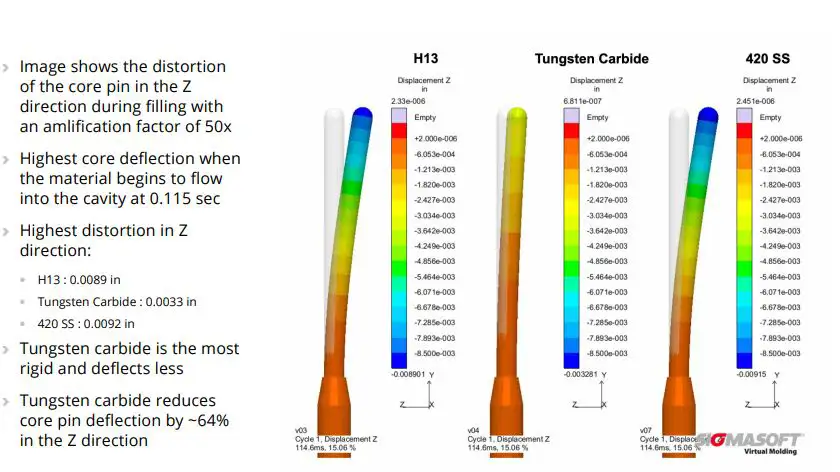 This whitepaper will provide you the opportunity to learn the following:
Over the past 15 years, the use of innovative core pin metals has significantly improved high-cavitation plastic injection molding technologies 
Tungsten carbide core pins are appropriate for high-cavitation medical molds such as test tubes, pipettes, and syringes 
The rigidity of tungsten carbide core pins makes possible the absolute minimization of tooling deflection (core shift) during the molding process 
With superior heat transfer characteristics, tungsten carbide's cooling capabilities are maximized (like beryllium copper, but without its health hazards) 
Tungsten carbide core pins offer improved core pin wear life 
Molding cycle times can reduce by 25%-40% with the high thermal conductivity benefits of tungsten carbide 
Defect rates are reduced with increased repeatability and the ability to achieve tighter tolerances, which improves yield and process stability, and offers the highest possible process capability [Cpk] for injection molded parts 
Improved technologies provide the ability to apply various surface finishes, including the Society of Plastics Industry (SPI) Finish A-1 standard 
Existing molds can be retrofitted with tungsten carbide core pins 
Cost benefits increase with economies of scale 
Crafts Technology has produced custom injection mold tooling for over 15 years, enhancing hundreds of critical niche molding application processes.  We engineer and manufacture precision, complex form tungsten carbide core pins, catheter tip bushings, pin bushings, gate bushings, inserts, ejectors, and other injection molding tooling with the exacting level of tolerances and design features that high-precision medical consumable molders require.  At Crafts Technology, we develop solutions to achieve a variety of precise criteria based on your specific application.  We invite you to partner with us to determine the cost-effectiveness of our unique solutions. 
https://craftstech.net/wp-content/uploads/2022/02/corepins.webp
836
1254
Jeffrey Roberts
https://craftstech.net/wp-content/uploads/2022/03/CraftsLogo.webp
Jeffrey Roberts
2022-02-08 14:34:39
2022-03-08 12:02:35
Medical Consumable Manufacturers Improve Part Quality and Cycle Time Using Tungsten Carbide Core Pins