Crafts Technology Presents at AeroMat 2021
On Monday, May 24, 2021, Jeff Roberts, Vice President of Engineering of Crafts Technology conducted a presentation on "Composite Cutting Solutions that Greatly Reduce TCO of Countersink Tooling and AFP/ATL Machines" during a technical program session at the virtual AEROMAT 2021 Conference. This technical program was part of their Composite Materials & Structures session.
AeroMat is hosted by American Society for Metals (ASM). ASM International is the preeminent association for engaging and connecting materials professionals and their organizations to the resources necessary to solve problems, improve outcomes, and advance society. As the world's largest and most established materials information society, ASM engages and connects a global network of peers and provides access to trusted materials information through reference content and data, education courses, international events, and research. AeroMat is the forum that showcases the interchange of pertinent technical information on aerospace industry material and processes. With over 125 technical presentations, plenary speakers featuring the aerospace industry's most pre-eminent leaders in aerospace materials and a diverse exposition with over 50 companies and organizations showcasing state-of-the-art products/services.
Crafts Technology specializes in using superhard materials for cutting solutions that can dramatically reduce TCO for all specialized cutting applications in the aerospace manufacturing process, including AFP, ATL, and countersink drilling. Crafts Technology collaborates with Fives Industrial Engineering Group to develop optimal cutting tools that achieve higher performance for both the machine manufacturer and the OEM. This video was created and presented by the VP of Engineering and the full video can be viewed on the Crafts Technology YOUTUBE channel.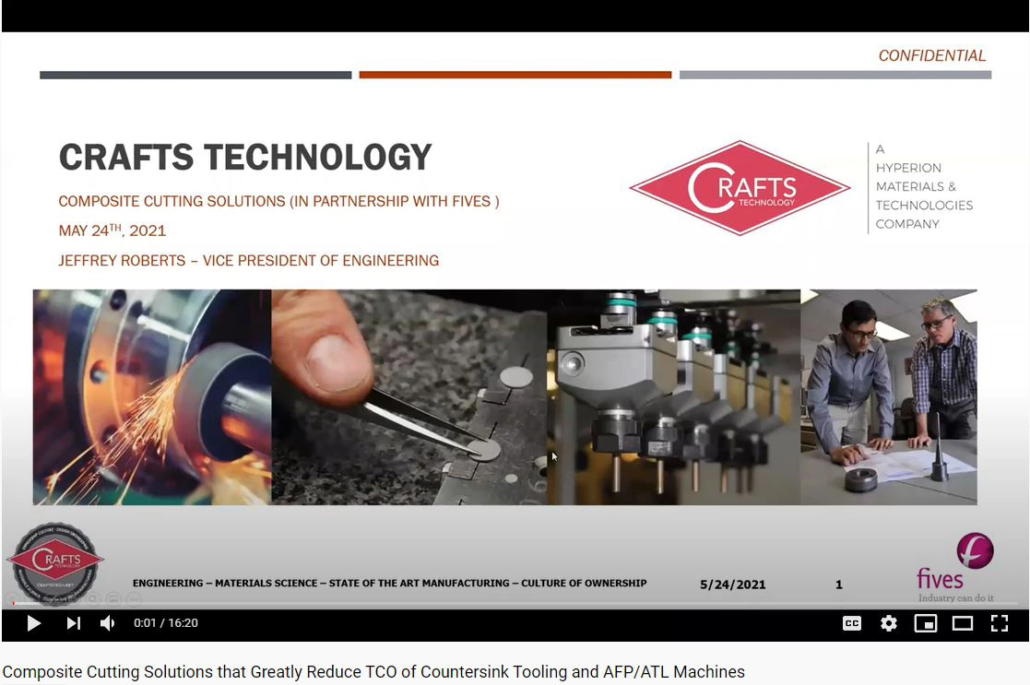 https://craftstech.net/wp-content/uploads/2021/06/Capture2-e1623098190337.webp
292
853
Jeffrey Roberts
https://craftstech.net/wp-content/uploads/2022/03/CraftsLogo.webp
Jeffrey Roberts
2021-06-11 08:16:31
2022-03-08 13:25:51
Crafts Technology Presents at AeroMat 2021