Using Technology to Adapt to Today's Changes
Joe Abbate is the Technical Sales Manager for Crafts Technology. Recently he was interviewed by Gretchen Salois, a senior editor at FFJournal magazine, which covers breakthrough technology and innovative manufacturing systems used by fabricators and OEMs. The purpose of the interview was to find how manufacturing firms like Crafts Technology were adapting to the COVID -19 pandemic and their use of software to help manage their business.
When the pandemic tied up the economy, Crafts Technology chose to add two software modules to its existing ERP system to streamline operations and communications between remote and on-premise departments. Abbate stated, "We had to consider that a lot of our workers have gone in to work for 40 years and working from home seemed awkward. It was not an easy change for them to make".
Communication and collaboration are key to any teams' success, and this is no different at Crafts Technology. A coordinated live meeting among team members was now obstructed by alternating shifts, remote working, social distancing, and face coverings. As if effective communication was not difficult enough.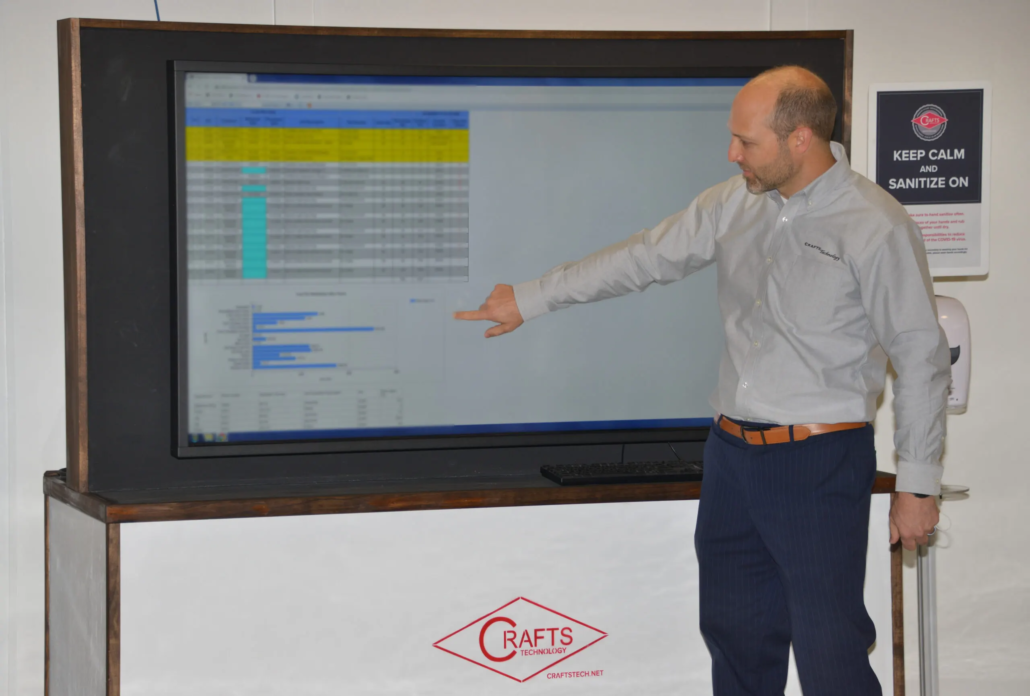 Using this new software, Crafts Technology was able to provide employees with updated visual display boards to increase information flow to the shop. Workers back on site are also aided by electronic devices to help mitigate any confusion. "We're able to hold production meetings as we would normally," says Abbate. When we are not doing production meetings virtually, we socially distance (keeping 6ft apart) and have given our workers iPads and headphones to follow along during meetings on the floor.
As part of the Crafts Technology management and leadership team, Joe helps develop, plan, and execute company strategic initiatives as well as support customer application solutions. Joe's strong background in engineering, operations, grinding, and sales make him a great resource for solving industrial challenges both for customers and for Crafts Technology.
At Crafts, Joe has led projects for CRM deployment, ERP utilization and reporting, and capital equipment justification. Joe believes in communicating business information throughout the organization so that smart, data-driven decisions that align with company goals are made daily. He has a special interest in prioritizing on-time delivery, quality, and customer satisfaction performance. To read the entire interview – visit https://digital.ffjournal.net/issue/september-2020/fast-adaptation/
https://craftstech.net/wp-content/uploads/2020/09/NIK_1944-scaled-e1607451695241.webp
1305
1555
Jeffrey Roberts
https://craftstech.net/wp-content/uploads/2022/03/CraftsLogo.webp
Jeffrey Roberts
2020-09-28 17:47:54
2022-03-08 13:43:52
Using Technology to Adapt to Today's Changes